Interior Decorator vs Interior Designer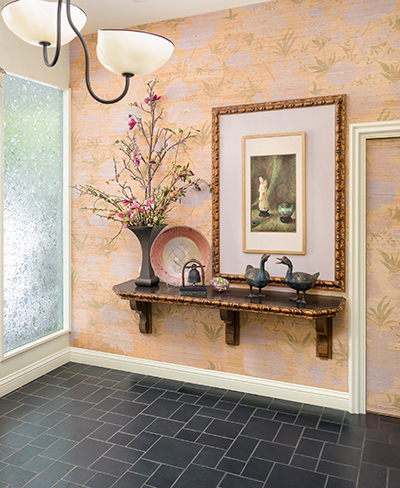 I often get asked about the difference between an interior designer and interior decorator.
Because designers are not yet licensed by the state of California, even those within the profession cannot fully agree upon the terminology of an interior decorator and an interior designer.
Actually, it is not really important what a designer calls himself or herself. What is important, however, is the fundamental difference between the two professions.
For the record, I am an Interior Designer and therefore bring valuable professional training, industry and building code knowledge, and space-planning skills to your project.
What is an Interior Decorator?
An interior decorator will work with you to select a color scheme, a style and a layout for your rooms. They will help you with wall coverings, window treatments, carpets and upholstery, and they will show you appropriate furniture for your home. A decorator may or may not have any formal college training. What they do have, however, is a natural creative talent for decorating interior spaces.
What is an Interior Designer?
An interior designer is always a decorator. In addition to that, however, they also redesign spaces. They are trained to develop a master plan and look at the possibilities of a space in the context of the master plan. An interior designer has had formal college training, knows the building codes and has had a great deal of experience within the construction field. They do space planning and remodeling, but they are not architects or contractors.
Benefits of Working with an Interior Designer
As an Interior Designer I provide all the services of an interior decorator with all training needed to develop and fulfill the master plan. An interior design professional takes their job very seriously. They realize that they are doing more than just decorating your homes and making it a healthier place to live. They are also helping you to protect and make the most of your investment.
Professional Accolades ASID, IIDA, IDS, CID, etc. – These are accolades given to professional designers by several of the design societies. Each organization has their own qualifications for professional membership, and generally speaking they all require formal education, five or more years in business, an evaluation by their peers, and the passing of a two-day test. Only then can they use the accolades after their name.
Classes with Carol Woodard
Your Perfect Remodel…
Starts with Education ~ Leads to Inspiration ~ Ends with your Dream Renovation
Classes like these help you know where to begin. I am passionate about education and love to share what I know. I understand that your time is at a premium and always make learning fun, interactive, engaging and full of valuable information.
In the first fifteen minutes those who attend my classes find it worth the small price of admission. They benefit from my experience in the industry in order and make smart decisions, save time and learn ways to make best use of their budget on any remodeling project.
COLOR CLASS – The Psychological and Physiological Affect of Color
Learn how to use your biological response to color in combination with your personal, cultural, and symbolic color associations to create your perfect home.
REMODELING CLASS – Creating Tomorrow's Home Today
Learn how to apply tricks and tips of the trade to your remodeling project and create a healthy, safe, and sustainable home. Become a lifestyle trend-setter.
I teach these classes in the Saratoga/Los Gatos area. Call our office to select the class and date that works best for you or email via our Contact Page.
Which class is best for you?
Choose from upcoming class dates. Call our office at 408-867-5085 or email via our Contact Page for information about classes