Carol Woodard, CCID is a nationally acclaimed, award-winning interior designer. Her reputation has led to recognition from clients and the design community.
Curious about the awards we have won?
Click to View Industry Awards
For our client's privacy, the reviews below include client names and initials as preferred. Questions about a particular review? We are happy to furnish the original upon request.
Residential Reviews & Letters of Recommendation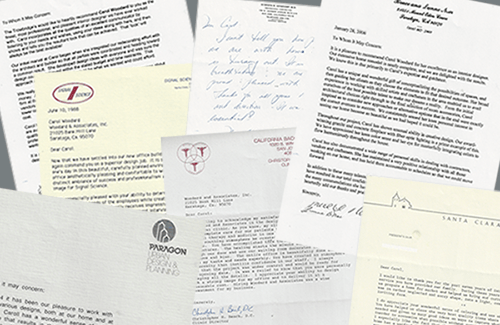 My wife and I are very pleased to recommend Woodard and Associates for all aspects of interior design. We have found Carol and her associates to be completely reliable, flexible and competitive when it comes to the important issues of cost and quality.
Mr. & Ms. E.S. – Saratoga, CA
Carol has enriched our lives with her knowledge of interior design, what options are available, what colors mix and match, and how to creatively present these qualities in a very livable environment. All problems dissolved with her professional care and sense of humor and our home now has the "look" we wanted. It is a great privilege to recommend Carol Woodard to you as the finest interior designer we know!
Sandra & John Trowbridge – Saratoga, CA – Excerpt from review on HOUZZ
We are so pleased with the "look" and "feel" you helped us achieve in our Los Gatos home. Even knowing our likes and dislikes, we could not have put it all together without your help. It flows from room to room, stays true to a single idea yet expressed different feelings throughout the house. We are pleased to recommend without hesitation, design capabilities. It's with a lot of pride we show our newly refurbished home and truly appreciate the added value of such a successful remodel project.
Mr. & Ms. E.P. – Los Gatos, CA
I worked with Carol 15 years ago for my first house, and again over this last year on a new house. She is particularly talented at figuring out what her client likes and wants, instead of imposing her style on the project. She exposed me to things I would not have known existed, and offered design ideas that were both elegant and practical. Additionally, her strong relationships with her numerous suppliers makes it so the project runs smoothly and accurately.
Phoebe Barber – Read review on HOUZZ
We have worked with Woodard and Associates for the past five years on various projects. Carol has done an excellent job in meeting our needs to enhance the look and feel of our home. We present many challenges to a designer. We are both meticulous and opinionated, and poor at visualizing colors and fabrics that will actually work in our home. Carol is patient and perseverant, she does not push her ideas, but guides us by pointing out advantages and disadvantages of our choices often suggesting much better options than we originally considered.
A.P. – Los Gatos, CA
Carol was of immeasurable help in keeping us on track with our style and color choices when one or both of us would stray, or when one or the other of us would nudge her and indicate we were having trouble getting the other on track. She could double as a marriage counselor! Carol also excelled at managing outside vendors on our behalf. She managed everyone's schedules and we did not have to worry about that in the least. I would highly recommend Carol. I am not experienced in design, and she helped my husband and I put together a beautiful home.
Kristen Ingalz – Excerpt from review on HOUZZ
National Recognition for a Exceptional Work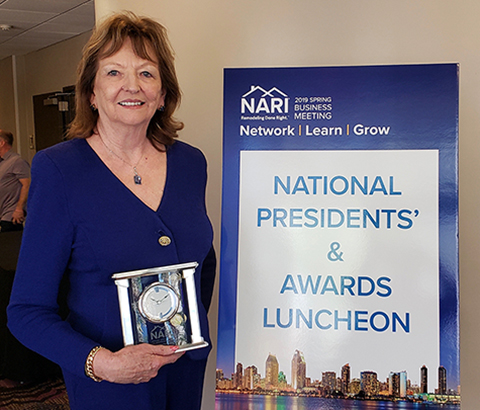 Carol Woodard, ASID is presented with the NARI Lifetime Achievement Award.
The National Association of the Remodeling Industry (NARI) is an organization of high-quality remodeling professionals committed to integrity, high standards, professional education, and ethics within the industry.
The Lifetime Achievement award is presented based upon the recipient's accomplishments, industry awards, local community involvement, and NARI national involvement in both appointed and elected offices.
"Carol was a founder of NARI Silicon Valley in 1989 and currently serves as the VP of Membership. Since NARI Silicon Valley was founded, Carol has played a key role in the continuation of our chapter. Whether through serving on the NARI Board of Directors or consistently attending our regular monthly meetings, Carol has been foundational in making NARI Silicon Valley what it is today."


Commercial Reviews – Letters of Recommendation
The finishing touch on the showroom was a mural we used to show a company/family history. This tribute to our dad and grandparents is the centerpiece of the showroom and had to be prefect. We sent Carol and her associate a group of about 40 photographs to make the collage. As we sorted through the choices and rearranged the photographs we were amazed at the patience and care taken to get this very important piece of our family history correct. I must say, she nailed it! I cannot possibly say enough about how customers and employees react to the new showroom colors . It truly was the finishing touch. Without Carol, the project would not have had the impact it has had. Thank you Carol Woodard for everything you did to help make our project a success.
Jim Heinz – University Electric – Santa Clara, CA
Update from Jim: The combination of new colors and lighting has had a calming effect on our staff and has brought about many compliments from our customers as well. People seem more relaxed and at ease with the new colors and lighting in our showroom. I would strongly recommend Carol for any of your design needs; residential or commercial. If you want to make a statement with color, she is your gal for sure!"
Jim Heinz – Excerpt from review on HOUZZ
We have settled into our new office building and I would like to once again commend you on a superior design job. Not only is the office aesthetically pleasing and comfortable to work in, it also conveys a distinct ambiance of success and professionalism and a strong corporate image. Your attention to detail, organizational ability, and innovative ideas are appreciated by employees and clients alike. We are amazed at your ability to please and impress so many people with a design that was ahead of schedule and within budget. We look forward to working with you again during the next phase of our expansion.
K.D., PhD – Santa Clara, CA
Hiring Woodard and Associates was a wise investment for my medical clinic. Carol and her team helped create a soothing atmosphere through the use of colors and textures that helped the healing begin the minute our patients walked through the door. It is an atmosphere that instills confidence in our staff and suits my tastes and needs superbly. I always felt the project was under control and it was a relief to know that Carol was personally managing all the details. I appreciate her ability to design such a strong image for my office and to deliver it at a reasonable cost.
Dr. C.B. – San Jose, CA
It has been our pleasure to work with Carol on various design projects, both at home and the office. Carol has a wonderful sense of color and texture that results in the most livable surroundings. Her professional demeanor brings out a confidence necessary to try something out of the ordinary that has always resulted in our surprised pleasure and pride of accomplishment. As a fellow professional in a related field, I have enthusiastically recommended her to my clients and she has always lived up to our expectations.
Mr. & Mrs. R.G. – Los Gatos, CA
Reviews by Industry Professionals – Letters of Recommendation
"Carol truly is the consummate professional whose entire career has been devoted to the practice of and promotion of the profession of Interior Design. For the past 13 years, Carol has been a customer of the business that my husband and I own, a strictly to the trade furnishings showroom in San Jose. I believe this relationship gives me a unique perspective to really know just how knowledgeable and professional Carol is in her design practice. It is one thing to put your best foot forward in front of a client but quite another when working with a vendor where the depth of knowledge of the design business and drilling down to complex details of custom items becomes critical. Carol is a strong advocate for her clients and is able to convey the clients wishes in every small nuance of shared vision."
Sharon Juneau Daroca, Design Mart Silicon Valley, LLC – San Jose, CA
"Carol Woodard is one of the most professional women I have ever worked with. Her knowledge of interiors, her personal attention to detail and her concern for her client's personal and financial well-being make Carol a leader in her industry. I have had the privilege of working with Carol on two separate committees where we wrote the Code of Ethics for contractors and worked with Design Associates Team to help make a difference in housing. On both committees Carol has make a huge contribution to excellence and quality in an industry which normally settles for average."
L.G., General Contractor – Campbell, CA
I am a remodeling professional with over 36 years of experience. Carol and I have known each other for much of that time. Each time we have worked together I am most impressed by her professional demeanor, high skill base and knowledge of her "art", as well as the integrity she consistently brings to each project. There is always a wonderful and successful outcome to be expected when working with Carol.
Peter Lyon General Contractor – Excerpt from review on HOUZZ
Carol's contribution to projects we have collaborated on since 1990 is excellent. Rather than project her own taste into a project, she spends a great deal of time and effort to educate the client and help them discover their own desires and tastes, which is of immeasurable value. I regularly recommend my clients to Carol for help in finishing their homes. Her assistance makes the difference between a house and a home.
R.H. Architect – San Jose, CA
We have known Carol for about 20 years and many of our clients have worked with Carol. She has developed an interesting process to help her clients discover what they like, how they live and what makes them most comfortable. If you need direction with style, color, room spaces, furniture needs and its placement, Carol can help. Whether you simply want support in figuring out your own style or you have an entire house or business space to work with, Carol is the one to call.
Hometec Architecture – Excerpt from review on HOUZZ
It is always a pleasure working Carol Woodard and her firm. She is truly a leader in her field. Her talent is exceeded only by her unusual integrity and ability to deliver on her promises. Carol recently formed a group of professionals called the Design Associates Team. I have the privilege of being on the team and working with her in creating new possibilities of affordable housing. I would not hesitate to recommend Carol Woodard to anyone who shares her same high standards of design talent and professional ethics.
P.W., General Contractor – San Jose, CA
---
Woodard & Associates places great importance on the relationships we build with our clients. As an award-winning interior designer firm in Santa Clara County, we welcome the opportunity to bring our professional expertise and attentive service to your your next remodel project.